A new J.D. Power survey finds that consumer loyalty is much stronger for vMVPDs like YouTube TV, which J.D. Power calls "live streamers", versus consumer loyalty towards traditional cable and satellite pay TV services. 
According to the latest J.D. Power data, the likelihood of live TV streaming (i.e. vMVPD's customers switching services in the next year is just 12%, while the likelihood of cable and satellite customers switching is 21%.
YouTube TV has also emerged as the highest rated pay TV services, with a rating of 795, beating out Hulu + Live TV (785), and Sling TV (772). 
For a sixth consecutive year, Dish ranks highest in the cable/satellite TV–national segment with a score of 709, followed by DirecTV at 705. 

Dish performed exceedingly well in two markets, as it ranks highest in the cable/satellite TV in both the U.S. North Central (699) and South (725) regions. Verizon Fios ranks highest in the East region, while DirecTV ranks highest in the West region (704).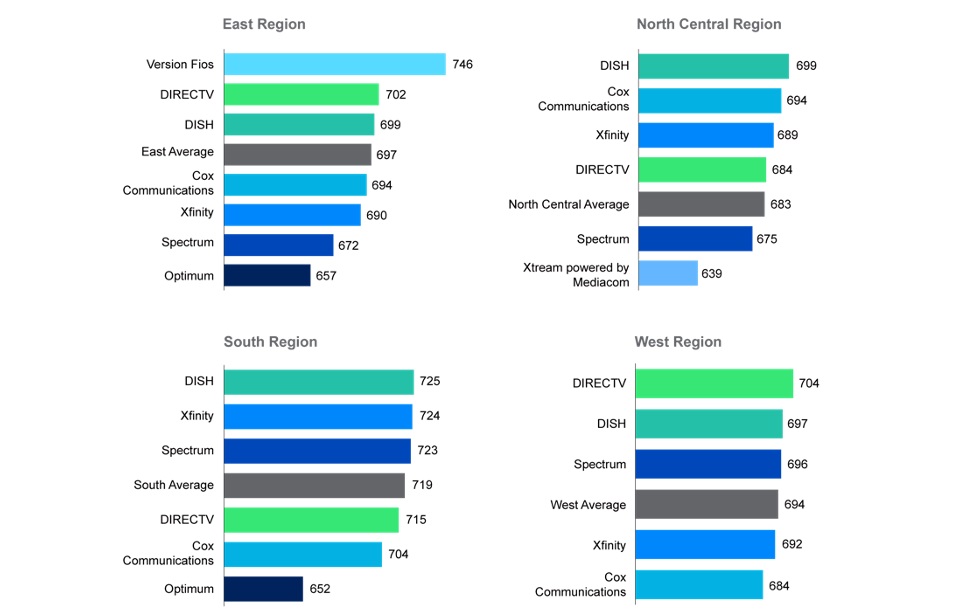 The J.D. Power researched noted that there were a multitude of factors driving the chasm between cable/satellite and streaming providers. The largest difference (156 points) was in the cost of service, with cable/satellite providers just not being able to compete on price with the live TV streamers. But live TV streaming providers also distinguished themselves from their cable/satellite counterparts in customer care (80 points), performance and reliability (64 points), and billing and payments (60 points), the survey found. 
Customer care was the area of largest year-over-year improvement for live TV streaming. Customers reported improvements across all care channels, including phone (+24 points); website (+17), and the streamer's respective apps (+8). Hulu + Live TV has the highest customer care satisfaction score, with YouTube jumping into second thanks to a 49-point improvement. Overall, 30% of all streaming customers that contacted customer service this year, and 84% felt the provider made it somewhat or very easy to resolve their problem, the researchers said. 
The researchers also stressed that in the past, cable/satellite providers may have been the beneficiaries of their status as a legacy model that had a high degree of difficulty in switching or outright canceling. But improvements made in customer care have vaulted live TV streamers to a different level in terms of satisfaction and loyalty, and the subscribers that are on the fence about switching have taken note.   
Streamers have always been a more affordable choice, but there was always a trade-off in reliability and customer care. Now, with streamers succeeding in all areas, cable and satellite providers have no choice to step up their game and rise to the occasion, the researchers said. If they don't, they run the very real risk of fading into the background faster than anyone anticipated. 
This Technology, Media, and Telecom Intelligence Report is based on responses from 23,584 customers and was fielded from October 2022 through August 2023. It was authored by Carl Lepper, senior director of technology, media, and telecom intelligence at J.D. Power.