Why TV advertising's upfront model won't fade away
WTF is the U.S. Joint Industry Committee?
Netflix's TV chief, the TV-to-streaming-to-short-form turning point, Roku's misinformation problem, Nielsen's new measurement service and more
Big-screen battle
Roku's decision to start making its own smart TVs now seems to reflect two shifts happening in the connected TV hardware market: Smart TVs are usurping CTV devices (dongles, sticks, pucks, etc.) as the popular means of connecting a TV to streaming services, and smart TV makers are becoming more powerful players in the overall CTV platform market.
"Roku is probably thinking 'we'd better be making TVs as well to at the very least hedge ourselves and maybe protect ourselves from whatever further competition might evolve,'" said Tim Nollen, senior media tech analyst at investment bank Macquarie.
Roku has risen to have a dominant share of the U.S. CTV market. In the third quarter of 2022, its devices accounted for 40% of the CTV devices installed in the U.S., according to market research and consulting firm Parks Associates. And in the second quarter of 2022, 33% of the time people in North America spent streaming video on any device — TV, phone, computer, etc. — occurred on a Roku-powered TV, more than any other platform including Amazon's Fire TV, Samsung's smart TV and Apple's iOS, according to video measurement and analytics firm Conviva. 
However, outside the U.S., Roku's position isn't so dominant. In Africa, Asia, Europe, Latin America and Oceania, Roku didn't even crack the top five of devices by watch time in Conviva's report.
While Roku announced last week that it has 70 million active accounts — up from 65.4 million at the end of Q3 2022 — "Roku is still mostly just U.S. They haven't had much success outside," said Alan Wolk, co-founder and lead analyst for consulting firm TVRev.
To be clear, Roku has only announced plans to sell its smart TVs in the U.S. So getting into the smart TV hardware business won't necessarily help the company internationally anytime soon. But it could help to protect the company's business domestically. 
Smart TVs in general have overtaken CTV devices in popularity, accounting for 35.3% of streaming video viewing time in Q2 2022 versus 34.6% for CTV devices, per Conviva. And the smart TV's preeminence seems to have spurred CTV device makers to get into the business of making their own internet-connected televisions. In September 2021, Amazon unveiled its own line of smart TVs. Comcast followed suit in October 2021 and then formed a joint venture with fellow pay-TV provider Charter called Xumo that plans to roll out a line of smart TVs this year.
Not only is the smart TV market is getting more crowded, but it's featuring more companies that own both the TV screen and the CTV platform powering it. That could lead the U.S. CTV market to more closely resemble the international CTV market where smart TV makers Samsung and LG enjoy larger shares than they do in the U.S.
As evidence of how the global CTV platform picture differs from the U.S. one, here's a graphic from S&P Global Market Intelligence's media research group Kagan breaking down the U.S. market:
And here's one breaking down the global market: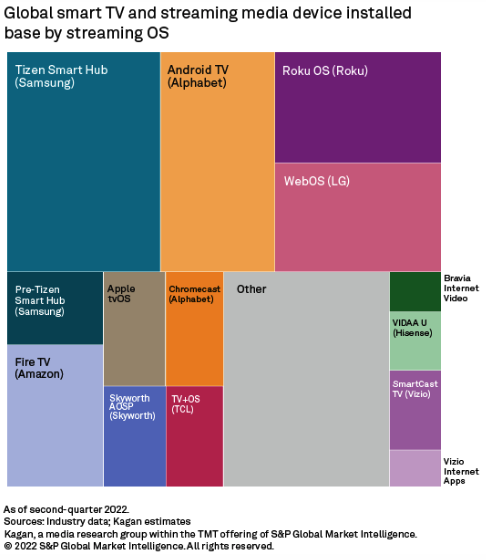 As the graphics show, the global CTV platform landscape looks notably different from the U.S., with smart TV makers Samsung and LG enjoying more market share internationally than they do in the U.S., which is dominated by Roku and Amazon that primarily sell their own CTV devices and license their CTV platforms to third-party TV makers.
"LG and Samsung are global brands and dominate most markets. They're both in pretty much every country in the world," said Wolk. 
Roku peddling its own smart TVs could be a move to protect its CTV platform from getting squeezed by smart TV makers' own CTV platforms. It's also likely an effort to bolster its CTV advertising business and guard that business from the effects of the rising smart TV competition.
There are advantages to owning the actual smart TV hardware versus simply providing the CTV platform powering a TV. For starters, Roku has more control over how it can insert ads on its platform when it owns the smart TV vs. when it's powering a smart TV made by another company, Roku U.S. brand sales head Kristina Shepard told AdExchanger. Roku is also likely able to collect more data about what people watch on a smart TV owned by the company — such as programming piped in through a traditional TV set-top box — vs. what it has access to via its CTV devices, and that expanded data set could help the company when selling ads on its platform. 
"It's beneficial when working with advertisers to be able to give this unified view that, in a dongle world, you may not have the direct data to make that happen," said Seth Shafer, senior research analyst at Kagan.
Additionally, Roku could use its own smart TVs to inform the development of the platform it licenses to third-party TV manufacturers in order to help it compete against the likes of Amazon and Google seeking to secure their own licensing deals.
"Roku-branded TVs are going to accelerate the company's pace of innovation. They are basically test beds for Roku to develop more compelling features and then make those available for the full Roku TV [platform licensing] program. So in that way, Roku TVs would be complementary to their TV licensing program. It allows them to roll out innovations faster to their licensees," said Nikhil Lai, senior analyst at Forrester.
Nonetheless, the potentially bigger big-screen battle that is brewing is the international one. LG and Samsung already lead the market outside the U.S., and Roku's primary CTV platform rivals — Amazon and Google — are making inroads internationally, while Roku's business has concentrated on North America and parts of Europe.
"Amazon and Google are the ones making deals with various [TV manufacturers] in Europe to deploy either Fire TV or Android TV onto those people's TVs to make new smart TVs," said Wolk.
Google seems to have gained share of the CTV platform market, in large part, by expanding its international footprint. "I understand from having traveled to Singapore and Australia a few months ago, talking with clients there, that Android [TV] practically dominates the market there," said Nollen. Last week, Google announced that its two CTV platforms, Android TV and Google TV — yes, Google has two different CTV platforms for some reason — have a combined monthly active device base of 150 million devices.
In other words, Roku has some catching up to do. "I think their brand recognition is low [outside the U.S.] and their actual market presence is low," said Nollen. He added,  "So probably the biggest opportunity for growth is there. But they're kind of behind the curve, whereas they in many ways led the change in this country."
What we've heard
"We've seen shifts in the TV market with high-level filmmakers that were pushed to do limited series, and right now the limited-series form is probably too expensive. That's what we hear. High-level, international directors are being pushed to do local-language, non-expensive 'drama in a room' or 'comedy in a room'[shows]. That's a shift."

— International production executive
Why TV advertising's upfront model won't fade away
TV advertising's 60-year-old upfront model may be all but inextinguishable.
Despite the financial confines of the upfront's year-long commitments, TV ad buyers and sellers continue to seek economic comfort in the upfront model's revenue guarantees and pricing assurance, as I break down in this video essay.
Numbers to know
9.6 million: Average number of people that tuned into each of Amazon's "Thursday Night Football" streams.
-8.1%: Percentage year-over-year decline in U.S. national TV ad spending in 2022.
-$500 million: National TV ad spending shortfall in the fourth quarter of 2022 compared to Q4 2021.
14.6%: Percentage share of TV ad impressions that aired on CBS in 2022.
94: Number of the top-100 most-watched TV programs in 2022 that were sporting events.
$74.99: New monthly starting price for a subscription to FuboTV's streaming pay-TV service.
WTF is the U.S. Joint Industry Committee?
On Monday, five TV network owners — Fox, NBCUniversal, Paramount, TelevisaUnivision and Warner Bros. Discovery — plus industry organizations OpenAP and VAB announced the formation of a group to set measurement standards in the U.S.
Called the U.S. Joint Industry Committee, the group seems to be fashioning itself as the stateside version of the Joint Industry Currencies (same acronym, different name) that exist internationally and serve to consolidate measurement currencies in their markets. For example, in the U.K., a JIC called BARB provides the measurement data that TV ad buyers and sellers use as the basis for transactions.
"Anytime you're talking to somebody who says this program in the U.K. has this many viewers, that's based on the BARB data standard. Advertisers, agencies, broadcaster stations all use it, so there's no challenge on it," said a U.K.-based agency executive.
The challenge for the U.S. JIC will be determining how broadly to expand its participation beyond the initial group, not only among the buy side but within the sell side. Anyway, I made a YouTube Short about it that you can watch below.
What we've covered
The overhaul of TV advertising's upfront model is underway:
Measurement changes, streaming shifts, flexibility demands and economic instability are creating the conditions for a seismic, if slow, shift to the year-long commitment model.
Agency executives expect advertisers to commit less money in the upfront in 2023 compared to 2022.
Read more about the TV upfront's overhaul here.
Future closes Atlanta office less than a year after it was billed as a new video production hub:
Future closed its Atlanta office in December.
Some of the publisher's video production team is now based in its New York City office.
Read more about Future's Atlanta office closing here.
The esports salary market is headed toward a correction:
Money from venture capital investors and advertisers into esports is drying up.
Some esports players make more than $40,000 per month.
Read more about esports athletes' salaries here.
TikTok has matured, but there's still room to experiment:
TikTok's expanded ad product portfolio has helped it to attract advertisers.
The platform has also increased its targeting options beyond broad, demographic-based targeting.
Read more about TikTok here.
Omnicom Media Group and Albertsons Media Collective partner on targeting and measuring CTV via The Trade Desk:
The agency holding company will be able to use the grocery retailer's first-party data to target CTV ads bought through the demand-side platform.
Advertisers will also be available to evaluate campaigns' performance against Albertsons' customer base.
Read more about Omnicom's and Albertsons' deal here.
What we're reading
Netflix's TV chief:
The New Yorker has published a long profile of Netflix's global head of television Bela Bajaria as she tries to thread the needle to put out programming with international appeal and that is "premium and commercial at the same time."
The TV-to-streaming-to-short-form turning point:
Streaming seems unlikely to fully replace the economics of traditional TV, especially as production costs increase, but virtual production could help to lower production costs, though the short-form video surge could undermine the traditional perception of production quality, according to former WarnerMedia executive Doug Shapiro.
Roku's misinformation problem:
Connected TV platforms are not insulated from being used to distribute misinformation, as evinced by Roku carrying a streaming service that trades in QAnon content, according to Media Matters.
Traditional TV shows top streaming viewership:
Traditional TV shows like CBS's "NCIS" and NBC's "The Blacklist" rank among the most-watched shows on streaming services, likely because of their large episode libraries, according to The New York Times.
Nielsen's new measurement service:
Nielsen will roll out the updated version of its TV-streaming-video ad measurement service — Nielsen One Ads — on Jan. 11, but the updated measurements aren't yet being used as currencies for ad deals, according to Ad Age.